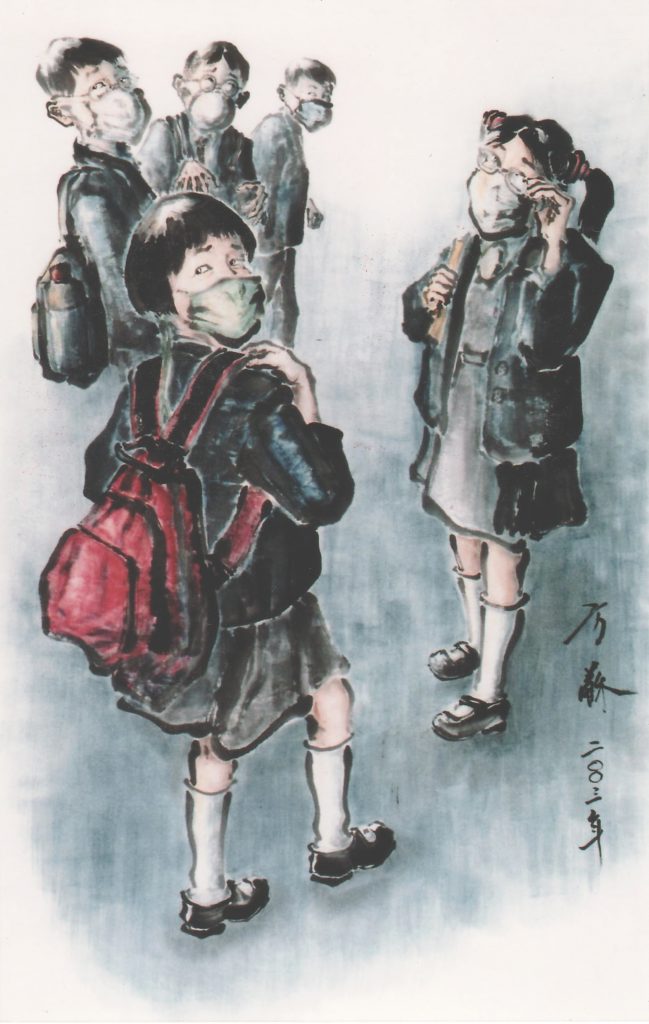 Hong Kong 2003 ‧ 香港 2003
Hong Kong 2003  (SARS series)
2001-03 / Total: 11 pieces/ Exhibition: City Life II – Hong Kong & Beyond, Hong Kong Central Library and Shatin Town Hall, 2000-03 / Catalogue: City Life II – Hong Kong & Beyond, 2003
Eleven pieces are included in the "Hong Kong 2003" series, mostly painted during the SARS (severe acute respiratory syndrome) outbreak, recording what the artist saw and how he felt at that time. When Hong Kong was hit by the [SARS] epidemic, the whole city was stifling under an airless shroud.
香港2003(沙士系列)

2001-03 / 作品: 11 張/ 展覽: 城市生活 II – 香港内外, 香港中央圖書館及沙田大會堂, 2000-03 / 目錄: 《城市生活 II – 香港内外》, 2003
「香港2003」多為沙士疫症蔓延時的畫作,錄寫在疫症期間的所見及所思。在沙士疫症襲港期間,整個城市令人感到窒息,透不過氣來。
—
[City Life II: Hong Kong & Beyond –  Before the 2003 SARS outbreak, an exhibition of Hark Yeung's photographs and Fong So's paintings had been planned for the Museum of Applied Arts in Frankfurt, Germany. It was cancelled after failing to raise the necessary sponsorship. The exhibition was eventually launched in Hong Kong shortly after the epidemic to help the city move beyond its traumatic SARS experience.]
[城市生活II:香港內外 – 在2003年的沙士(曾一度被稱為非典型肺炎)疫症爆發之前,德國法蘭克福一個博物館曾計劃展出黑楊的攝影和方蘇的繪畫,但因未能得到贊助而取消。這個籌劃中的展覽終於改在香港展出,希望能有助這個城市從疫症中復元過來。]
"In this exhibition, I am most interested in his dark paintings of Hong Kong in 2003 – the year of the SARS outbreak… The darkness is of course not just due to the new disease but also about the sense of despondency of Hong Kong people about the stat of public affairs"
— Christine Loh (Chief Executive Officer, Civic Exchange, Hong Kong's independent think tank), Foreword, exhibition catalogue, 2003)
—
Cover image
School Closed 停課
2003, ink and colour on paper水墨設色紙本, 153 x 97 cm
Hong Kong was one of worst infected area by the SARS epidemic in 2003 [originated from South China, adjacent Hong Kong]. Schools were closed when community infection broke out.
2003 年在華南始發的沙士癘疫,香港是全球疫情最惡劣的地區之一。社區感染爆發後,學校停課。
Project gallery (Please click the image to view it in full)
1. The Crisis 危機
2003, ink and colour on paper水墨設色紙本, 179 x 38 cm
Hong Kong was ill-prepared for the epidemic. The SAR government's handling of the outbreak was deplorable.
疫症爆發,香港毫無準備,特區政府的舉措備受責難。
2. A Towering City 堅城
2003, ink and colour on paper水墨設色紙本, in two panels 二屏, each 每屏152 x 84 cm
A darkening cityscape of Hong Kong during the epidemic. The city was lit up, but the atmosphere was gloomy.
疫症期間的城市夜景。萬家燈火,但氣氛陰沉。
3. A Way of Precaution 防患
2003, ink and colour on paper水墨設色紙本, 116 x 86 cm
How to stay safe? Avoid going out or wear a mask/face covering.
如何防疫?多數人的答案是避免外出,帶口罩(或掩面)。
4. The Shock 震驚
2003, ink and colour on paper水墨設色紙本, 107 x 97 cm
A serious oubreak: more than a dozen of people were killed by the new disease in one day!
大爆發:報載癘疫一日奪命十餘宗!
5. A Tribute to the Medical Workers 向醫護人員致敬
2003, ink and colour on paper水墨設色紙本, 113 x 69 cm
People who gave the most during the epidemic were the medical workers. [The record shows that 299 people were killed by SARS in 2003 in Hong Kong, including eight medical workers.]
在疫症期間付出最多的是醫護人員。[2003年香港死於沙士的人數是299,其中八個是醫護人員。]